China Factory Galvanized Steel Coil DX51D+Z SGCC Z150
Product Detail
Product Tags
Gi coil specification can be customized according to customer's requirement.
| | |
| --- | --- |
| Thickness | 0.12mm-3mm ; 11gauge-36gauge |
| Width | 600mm-1250mm; 1.9ft-4.2ft |
| Standard | JIS G3302, EN10142, EN 10143, GB/T2618-1998, ASTM653 |
| Material grade | SGCC, DX51D, G550, SPGC, ect. |
| Zinc coating | Z30-Z275g/㎡ |
| Surface treatment | Passivation or Chromated, Skin Pass,Oil or Unoiled,or Antifinger print |
| Spangle | Small/ Regular/ Big/ Non-Spangle |
| Coil weight | 3-5 tons |
| Coil inner diameter | 508/610mm |
| Hardness | Soft hard (HRB60),medium hard (HRB60-85), full hard (HRB85-95) |

Application & Usage
Galvanized steel coils are widely used for construction, building, roof sheets, automobiles, agriculture,home appliances,vanitation pipe and commercial industries.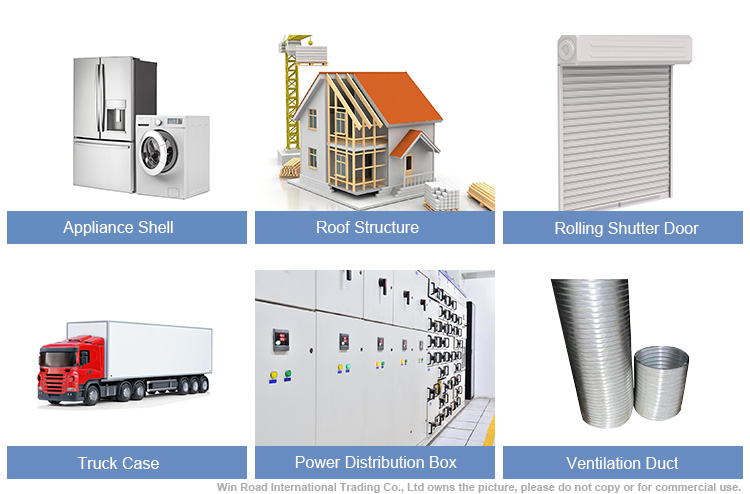 Packing & Delivery
Packing
1.Simple Package:Anti-water paper+steel strips.
2.Standard exporting package: Anti-water paper + plastic+galvanized sheet wrapper + strapped with three steel strips.
3.Excellent package: Anti-water paper + plastic film+galvanized sheet wrapper + strapped with three strapping strips+fixed on wooden pallets.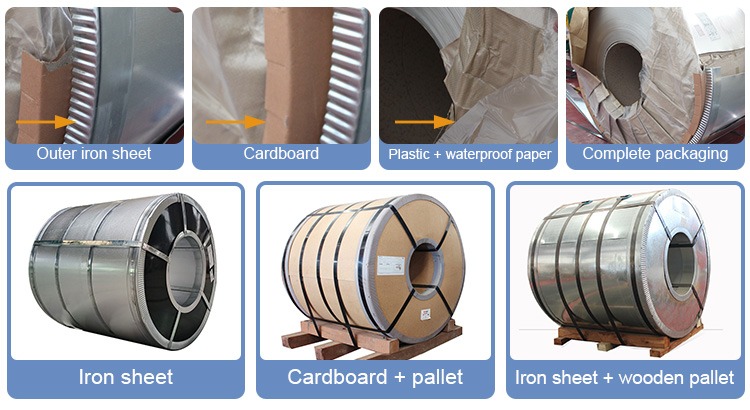 Shipping
1.Loading by container
2.Loading by bulk shipment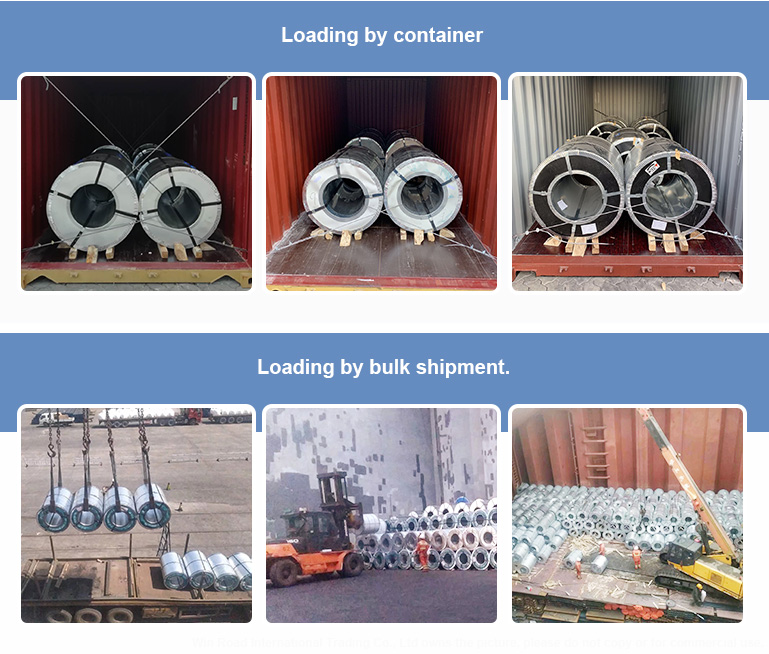 Factory & Production line
The factory production capacity of galvanized steel coil is 120,000 tons annually. Each production process follows technical standard strictly.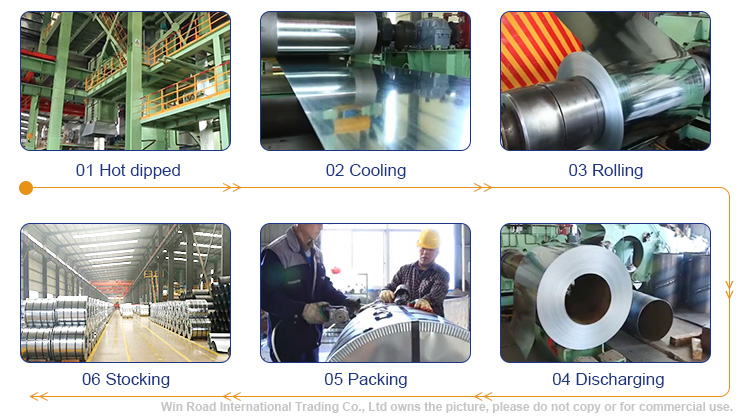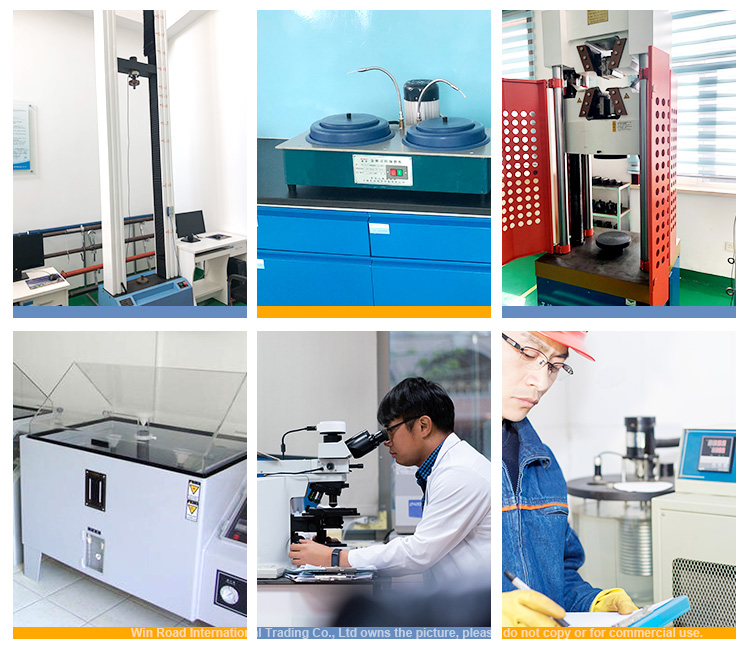 Factory Pictures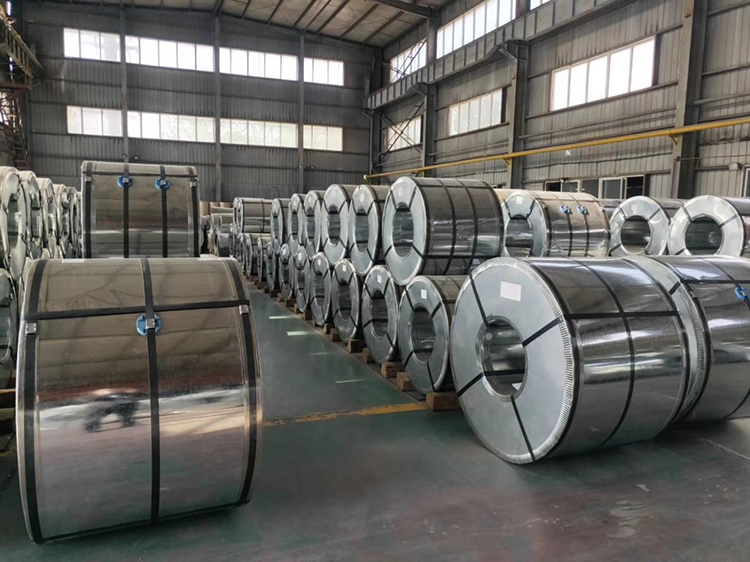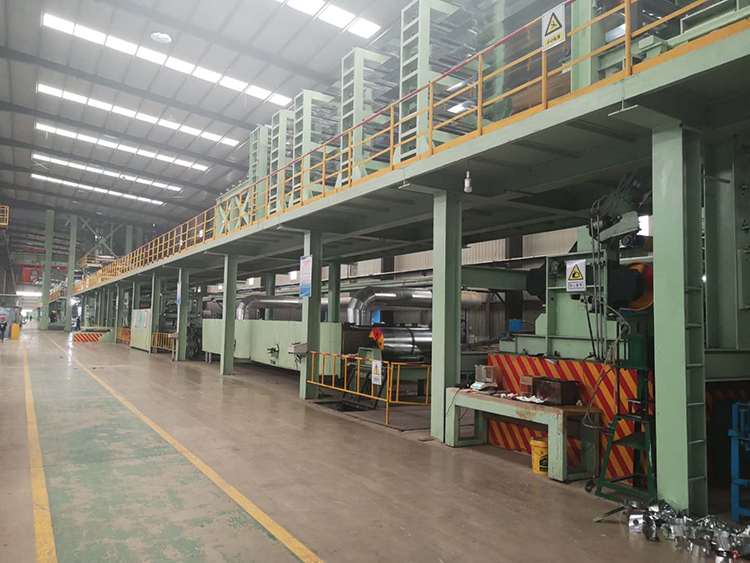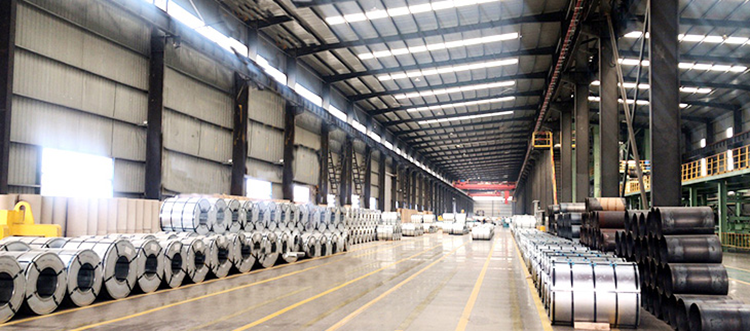 FAQ:
To get an exact price, please send us below details for your inquiry:
(1) Thickness
(2) Width
(3) Zinc coating thickness
(4) Coil weight
(5) Slightly oiled surface , or dry surface
(6) Hardness or material grade
(7) Quantity
2. What kind of package will I get?
-- Generally it will be standard exporting package, if customer doesn't have any requirement.
Find more information from "packing & shipping" item above.
3. What kind of product surface will I got among "regular spangle, big spangle, small spangle and zero spangle"?
--You will get "regular spangle" surface for no special requirement.
4. About the surface hot dipped galvanizing coating thickness.
--It is two sides point thickness .
For example, when we say 275g/m2 , it means two sides total 275g/m2.
5. Customized Requirement.
--Product is available customized on thickness, width, surface coating thickness, logo printing, packing, slitting to steel sheet and others. As each requirement is customized, so please contact our sales to get exact answer.
6. Below is a standard and grade of galvanized steel coil for your reference.
Standard
GB/T 2518
EN10346
JIS G 3141
ASTM A653
Grade
DX51D+Z
DX51D+Z
SGCC
CS Type C
DX52D+Z
DX52D+Z
SGCD1
CS Type A,B
DX53D+Z
DX53D+Z
SGCD2
FS Type A,B
DX54D+Z
DX54D+Z
SGCD3
DDS Type C
S250GD+Z
S250GD+Z
SGC340
SS255
S280GD+Z
S280GD+Z
SGC400
SS275
S320GD+Z
S320GD+Z
------
------
S350GD+Z
S350GD+Z
SGC440
SS340 Class4
S550GD+Z
S550GD+Z
SGC590
SS550 Class2
7.Do you provide free sample?Yes, we supply sample. The sample is free of charge, while the international courier is in charge.
We would double return the courier fee to your account once we cooperate.
Sample will be sent by air when weight less 1kg.
---
---